STADIUM® Technology Portfolio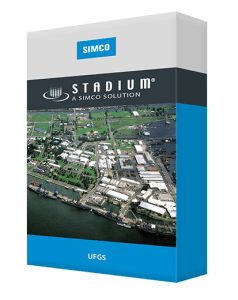 The U.S. Department of Defense recognizes STADIUM® as the only accurate numerical modeling tool of its kind in the industry
After an extensive worldwide review and market survey of all existing technologies, the U.S. Department of Defense recognizes STADIUM® as the only accurate numerical solution for the prediction of long-term behavior of reinforced concrete structures exposed to a wide range of aggressive environments.
STADIUM® Software is protected by patents: ''Method for Modeling the Transport of Ions in Hydrated Cement Systems" (CAN Patent #2,349,153 and U.S. Patent #6,959,270)
SIMCO's STADIUM® software is the only service-life prediction tool recognized and specified in the Unified Facilities Guide Specifications (UFGS) for the design and construction of new maritime works for the U.S. Navy, U.S. Air Force, U.S. Army Corps of Engineers and NASA.
FIB Approach Compatible
STADIUM® is also compatible with the approach proposed by the International Federation of Structural Concrete (FIB) which is based on probabilistic durability modeling for the design of new structures. Probabilistic predictions accounting for the variability of input parameters can be performed with different statistical distributions. The approach is based on the ISO Standard 2394.
STADIUM® is a numerical model dedicated to the prediction of chloride and other contaminant ingress in cementitious materials
STADIUM® is a sophisticated finite element analysis software which reliably predicts concrete degradation kinetics and time before the initiation of reinforcing steel corrosion.
Unlike simplistic mathematical models, STADIUM® considers a wide range of physical and chemical phenomena that have a strong influence on long-term performance and overall service life. Contrary to the first generation of chloride penetration models that are based on Fick's second law of diffusion, STADIUM® is based on ionic transport and reaction modeling in saturated and unsaturated concrete.
The STADIUM® model accounts for the complex interactions between the contaminants penetrating the porous network of concrete and the hydrated phases of the cement paste and allows engineers to quantify the effects of various chemical compositions provided by specific types and blends of cements, fly ash, silica fume, and blast furnace slag when used with specific aggregates.
STADIUM®  – To effectively manage the service life of concrete infrastructure
SIMCO's STADIUM® predictive modeling tools allow owners, managers, engineers and contractors to reduce initial construction costs, avoid unnecessary inspection and maintenance costs, as well as prioritize capital expenditures. It offers assistance for the selection of optimal materials and identification of cost-effective rehabilitation strategies for a maximum service-life extension.
The development of this unique approach in new construction has been motivated by the desire to avoid problems associated with premature concrete distress by optimizing the material design and performing specific laboratory tests as part of the quality assurance program during construction. When used with good engineering judgment, this methodology is a tool that can significantly reduce the number of future structures that suffer from premature deterioration.
SIMCO's STADIUM® solution has been extensively validated and used in hundreds of high-profile projects including the construction of the new Panama Canal (Third Set of Locks Project) and the management of all of Port of Rotterdam wharves.
"THE AVERAGE MILITARY CONSTRUCTION EXPENDITURE FOR US NAVY PROJECTS THAT WILL BENEFIT FROM THE STADIUM® METHODOLOGY IS $671 MILLION PER YEAR FOR FY2012 THROUGH 2015. THE NAVY WILL ACCOMPLISH (ON AVERAGE) A 25% SERVICE-LIFE EXTENSION FOR FACILITIES AS RESULT OF USING THIS PERFORMANCE-BASED METHODOLOGY, THUS ACHIEVING A YEARLY COST AVOIDANCE OF $167 MILLION" –

DOUG BURKE – SUBJECT MATTER EXPERT FOR CONCRETE MATERIALS – NAVAL FACILITIES ENGINEERING COMMAND (NAVFAC)

Technical Information