Quebec, Canada, May 2nd 2018, SIMCO Technologies Inc. is proud to announce the acquisition of COSIGMA Structure Inc., a firm specialized in civil and structural engineering, based in Montreal, Quebec, Canada.
This strategic alliance will answer the growing needs within our different markets for durability design solutions for the construction, maintenance, repair and restoration of our buildings and infrastructure. COSIGMA's key specialty in structural and civil engineering design solutions is a strategic addition to SIMCO's services and solutions. By acquiring COSIGMA, SIMCO's is able to offer a more comprehensive portfolio of specialized engineering consulting services to optimize the design of new construction and to extend the service life of existing structures. SIMCO's recognized expertise in materials science is now enriched with new skills in structural analysis and design.
"We are very proud about this acquisition", says Jacques Marchand, President of SIMCO Technologies. "COSIGMA counts on a team of very competent and versatile engineers. By combining our capabilities, we will be able to position ourselves as lead innovators in durability design and restoration solutions to ensure the safety and sustainability of new and existing infrastructure in our different markets around the globe. The addition of COSIGMA's services is another step in SIMCO's ongoing commitment to its mission to make new and existing structures stronger and last longer", says Mr. Marchand.
"We are very excited to be joining forces with SIMCO", says Paul Croteau, President of COSIGMA. "The combination of our services will allow us to offer integrated leading-edge material science, durability technologies and structural engineering solutions. In addition, SIMCO opens us to markets where they have established a solid presence in Europe, the Middle-East and the United-States", Says Mr. Croteau.
About COSIGMA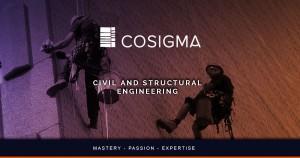 COSIGMA's mission is to provide the soundest engineering solutions to the technical challenges in structural and civil engineering.
The firm relies on team work, founded on the diversified experience and in-depth knowledge of its personnel. COSIGMA's approach is open and innovative and can be tailored to meet the very unique needs of each client and each project.
COSIGMA offers a complete range of services including: Inspection, damage records, condition assessment and evaluation of the structural capacity, analysis of repair and rehabilitation methods, seismic analysis and rehabilitation, preparation of plans and specifications, preparation of tenders for contractors, and construction supervision.
COSIGMA's has a proven track-record from a wide range of projects including historical and patrimonial buildings, parking structures, and public infrastructure such as bridges and maritime structures.